Your best experts are on the factory floor – but are they your best instructors?  They can be if you train them on how to effectively transfer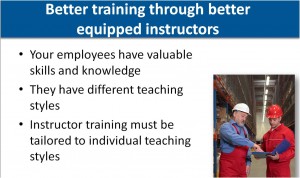 knowledge.  The average train-the-trainer program treats all instructors alike. It doesn't work that way. Your instructors may have a lot of knowledge and valuable skills, but they may have very different ways of transferring it to their colleagues. If your instructor training is not tailored to their individual teaching styles, you will be leaving big gaps in their ability to transfer knowledge. Learn how to train instructors for performance-based results.
* Download is a Flash based video. If you experience issues using Chrome, Safari and Internet Explorer will work.