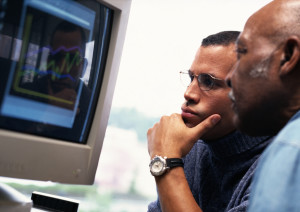 Keeping your employees up to speed on the latest technologies, processes, and skills is not easy – especially in a fast-paced manufacturing environment. Subject matter experts can't stop what they're doing every time someone has a question. Traditional classroom training doesn't address the specific needs at the moment they occur. A CBLO – a Computer Based Learning Object puts employees in the driver's seat for self-directed learning. It is a high-performance, low-cost way to deliver vital information anytime, anywhere. More broadly, it's a method by which traditional training is repackaged and made readily available to trainees. This method provides standalone instructional components used to support your learning environment and complement your workforce training program. CBLOs are proving to be extremely successful as just-in-time training for operators, maintenance technicians, and others.
In 2008, the team from Polytron created a CBLO for one of the nation's largest convenient foods manufacturers. It would support ongoing, second generation training and refresher training for a new Ingredient Blending installation. The CBLO was rapidly developed and then rolled out to 21 different sites.
Two years later, Polytron found out just how successful the CBLO had been. The Polytron team had been called to a meeting with the same manufacturer to discuss another training initiative. In the room were more than 20 Project Managers, R&D Engineers, and Site Managers. Many were familiar with the CBLO from two years before, and all were enthusiastic about the results. The CBLO had cut training time by about 30%, and users found it extremely helpful. As one individual summed it up, "This tool worked perfectly for us!" Everyone wanted a new CBLO for their next training initiative.
Delivered electronically, these media-rich and learning-centric tools provide unique benefits over traditional classroom methods. They enable you to meet the needs of production and the investment in your employees with a timely and cost-effective method.Imagine having the ability to provide a simulated practice environment which might otherwise be impractical or unsafe for an untrained employee. Using a CBLO, a trainee can experience the simulation to learn the system or procedure needed for the live environment. Capable of presenting an assessment at the end of the training, the CBLO also allows the module to record a grade to represent the trainee's comprehension of the topic presented.
Applying a CBLO in the manufacturing environment?
CBLOs provide a level of training flexibility where training time is limited by operating 'just-in-time' and reach a wide-range of learners. CBLOs can also close the gap for manufacturing professionals that use English as a second language by making the learning a more visual experience.
CBLOs have the ability to quickly and efficiently transfer knowledge across your workforce for critical, fast moving topics such as safety, quality, process changes, etc. Customized CBLOs put flexible, cost effective tools in the hands of your instructors to achieve a high level of people readiness for your company. Depending on the goals set for the training module, individual areas of the CBLO can be used as standalone units for new employee training, ongoing reference, on-the-job or refresher training. With a library of company-customized content and components, your employees and trainers can re-use the CBLO, time and time again to transfer knowledge and put performance in the hands of your people.  The CBLO is created with a proven structure:
1. The Introduction. Adults learn better if they have a quick introduction to the topic before diving into the details. So, the CBLO starts by telling them what's coming, why it's important, and what they'll be able to do with their new knowledge.
2. The Knowledge. Next the CBLO presents the content.
For operators (who usually prefer step-by-step instructions) –  a screen-by-screen presentation that walks them through the process from beginning to end, while listening to clear, simple instructions all along the way.
For maintenance techs (who typically want more freedom to explore) – we feature a component exploration screen. This lets them skip the basics and go straight to the component or area they want to learn about.
If your audience includes operators and maintenance, the CBLO would offer both options. Remember, CBLO success is all about tailoring the information to the learner.
3. The Results. So how did it go? Did the participant really grasp the information? A quick self-assessment will let you – and them – know. Since most people don't like testing, the assessments are short – five questions or fewer – and focus on the essentials. The assessment can be: True or False, Matching Items, Fill in the Blank, or Assemble the Widget.
What Makes a CBLO so Successful? It's F.A.S.T.E.R.
Fit –designed to fit the learning styles of the people who will use them
Accessible – from any device like a PC, Tablet, HMI, or PDA…any time of day or night
Speedy – letting users get information on demand and see immediate results in increased understanding/skills
Targeted – with each CBLO focusing on a particular skill, topic, process, or piece of equipment
Easy – simple to use and presenting information in clear, lively, interesting ways
Relevant – specifically built to meet your training goals and immediate objectives
The information within a CBLO must stand on its own and be relevant to the learner when they need it. For example, a three dimensional graphic identifying the components of a valve assembly provides stand-alone empirical information, but does not provide any context for that information. By providing a targeted purpose or goal for the graphic, the CBLO becomes relevant to the learner.
The amount of information conveyed is key to effectiveness. A learning object should contain only one or two related ideas so that it maintains focus. For example, a learning object detailing maintenance of multiple types of assemblies on a single piece of equipment is too large for effective knowledge retention. A learning object focusing on a single type of assembly and its multiple locations within the equipment would likely be an effective amount of content for a learning object.
In short, a CBLO should provide the right information at the right time. Too much content in a learning object can diminish the learner's knowledge gain, but too little content can result in confusion limited knowledge gain.
Creating a Sustainable CBLO for Manufacturing Training
Taking a hard look at traditional classroom delivery and its benefits provides plenty of clues to consider. Learning in a face-to-face environment benefits from real time trainer support and critical instructional elements (customization, clarification, feedback, interaction). Because these cannot be provided "on the fly" as they are in the classroom, these elements must be designed into the CBLO or included in conjunction with the CBLO within the construct of the learning environment. Following a CBLO on the safety aspects of all packaging lines in the facility, for example, employees might complete a guided walk-through of a particular line to locate E-Stops and identify safety hazards.
The CBLO, as a prepackaged product requires updates. Good CBLO design that anticipates learner needs and accommodates scalability can minimize the effort needed to update. CBLOs require additional planning, time, and tools to develop. In the past, online learning modules were developed by experts using specialized tools that only few people could use, and lengthy development times made their development cost-prohibitive. Today, the use of rapid development tools by instructional designers considerably reduces the time and cost to develop a CBLO.
An effective learning object must also meet three functional requirements:
Accessibility –this requires that the CBLO be uniquely identified, so that it can be stored and maintained in a database. In other words, the software used to create and encapsulate the CBLO must allow it to exist in a stand-alone form so that it can be accessed by multiple sources and integrated into other software systems, such as your Learning Management System (LMS).
Re-usability – this means the CBLO must also be structured so that it can be reused by more than one instructional context. For example, the three-dimensional valve assembly graphic CBLO might be useful to operators as well as mechanics. It might also be appropriate in new hire training or equipment overview training.
Interoperability – the CBLO must be able to be used by multiple delivery systems, such as the company Intranet, training stations or DVDs.
Making sure that Computer Based Learning Objects meet these requirements will help improve your manufacturing training.
What Are the Major Benefits of CBLOs in Manufacturing?
Consistent & Flexible – capture the expertise of experienced personnel once for delivery, and re-use the content as often as needed. There is no need to take employees away from their daily tasks.
Cost Effective & Globally Available – can be used as different manufacturing sites, plant locations, and through computers via browser access; almost anywhere. The cost to reserve space, allocate training aids, and pay manufacturing trainer travel expenses and accommodations are minimized.
Self-Paced & Hands-On – provides an opportunity to demonstrate what you know at your own pace, using hands-on computer interaction in a virtual, 3-D environment, when the "real" environment may not be accessible.
Information Retained – Adults retain approximately 90% of what they say and do. Say it, see it, and demonstrate it through computer interaction using electronic units of instruction, activities, job aids, quizzes, and other learning objects that are media rich and visually enhanced.
Overall Efficiency Up 15% in a Matter of Weeks
A global consumer goods company was down 20% in overall efficiency over the previous year. The downturn had been caused by inadequate knowledge of operating procedures and troubleshooting, plus a general lack of ownership by operators. The Polytron training team was called in to help turn things around. They created four CBLOs as part of a new training program. Within weeks of implementation, overall efficiencies improved by an amazing 15%.
What the customer said:
"We were able to use this CBLO to bring new operators up to speed on the overview of the system very quickly. It helped us reduce the overall time of classroom training by about one-third."
Want to incorporate CBLOs into your training program?  No other integrator has more experience or capability in developing CBLOs for manufacturing. With certified instructional designers using adult learning methodology, and certified trainers, we Put Performance in the Hands of Your People – anytime, anyplace.