What's good for the public can be hard on a manufacturer's bottom line, especially if a compliance project is not automated. For example, compliance with tracking and reporting regulations comes with a silver lining when the right automation solution provides immediate returns. A win/win outcome for compliance.
Polytron's Track and Trace approach most times delivers an immediate return for compliance-based projects. Recently, a client required an automated system for tracking and reporting activities to effectively meet FDA's regulations. The manufacturer produces consumer products with a sensitive shelf life, and requires compliance to stringent tracking and reporting regulations. The successful Track and Trace solution helped the client realize some of the following benefits that exceeded their expectations.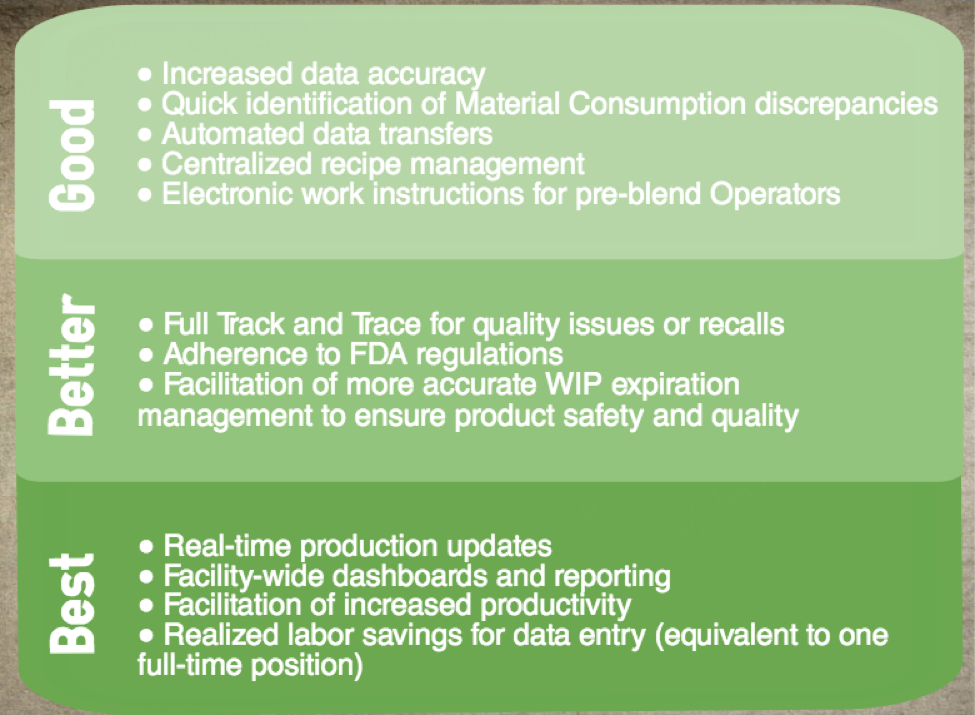 Beyond Track and Trace
Manual data entry and reconciliation needed to go, so we developed an application to match the manufacturer's existing dashboards which delivered real-time visibility throughout the facility and automated data extraction from the existing Batch system. We also automated transfer of material usage from SQL Batch database to the Oracle inventory database. Material Consumption Exception reporting was developed to show real-time issues and discrepancies.
A batch tracking software was implemented to manage the recipes and track material lot information all the way from ingredient supplier to finished product in the warehouse.
Multiple RFID types were utilized: Disposable RFID tags were applied to supplier shipping boxes; Removable/reusable RFID tags were used for barrels; permanent RFID tags were mounted on pre-blend bins; permanent RFID tags with temperature readings were mounted on semi-finished product bins.

Barcode readers and scales were installed for material tracking.

Small hand-add ingredients and finished pallets used Barcode printers and readers.
Customized work instruction pages for the pre-blending Operators were provided through a Work In Progress (WIP) software, and reports were developed for Track and Trace, Scheduling, WIP, and Batching.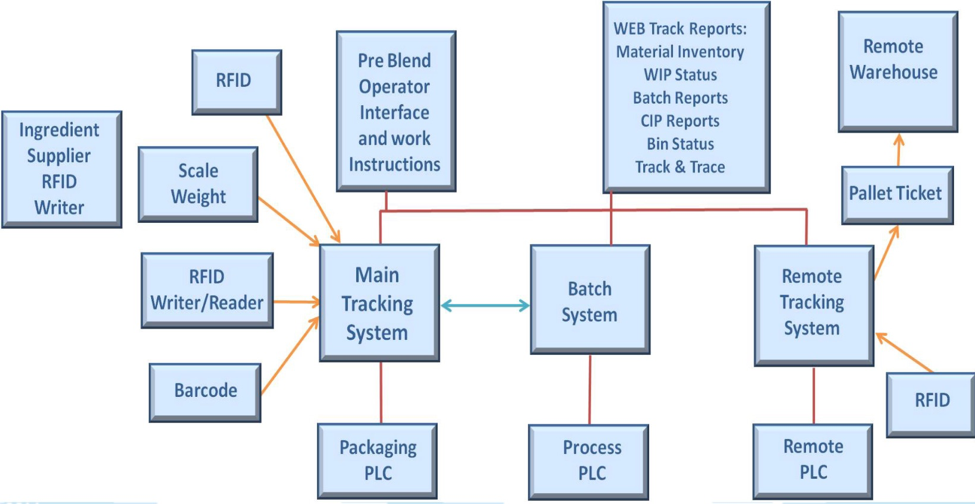 If you'd like to learn more about how Track and Trace compliance can benefit your facility, give us a call today.