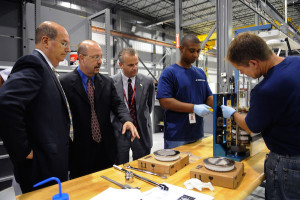 Manufacturing's workforce is in a state of change and we will see this accelerate over the next five to ten years.  We have been talking about the exit of the baby boomers as 10,000 per day reach retirement age.  The U.S. Census Bureau estimates that by 2016, one-third of the U.S. workforce will be age 50 or older and that number will increase to 115 million by 2020. A Pew Research report shows that approximately 10,000 Baby Boomers will turn 65 every day for the next 19 years. At this rate, almost every manufacturer in the U.S. can expect to lose some of their most senior workers.
Looking beyond these statistics, the workplace is beginning the rapid change to the digital age of manufacturing.  It is going to be critical that manufacturers provide more precise and advanced access to technical and reference materials so that operators and technicians are better prepared to operate and maintain both existing and new technology.  The plant floor is in the process of shifting from obsolete end-of-life equipment to newer state of the art components that will deliver a higher level of data and communication.
We are moving into an age where faster real-time data is available and the speed of production is faster and more flexible. Decisions are shaped by that data by the hour and even by the minute on the plant floor.  Without an "at your fingertips" availability of maintenance and technical knowledge, the younger workforce will be unsuccessful and even incapable of operating and maintaining the systems on today's plant floor.  This shift is just around the corner.
What changes can be made now that will help your current productivity by putting more information in the hands of your people?  Technology Transfer and Training delivery tools to ensure that your workforce is knowledgeable in the processes and procedures of upgraded or new operations include:
Job Aid or placards at the point of use
HMI embedded process documentation and video
Near-field technology to deliver information when the device is approached
Wireless and handheld devices with knowledge-based data references
Computer-based training aids with training validation
These easy-to-use tools deliver the right information at the right place at the right time to ensure plant employees can effectively make decisions on data and know at a glance how to efficiently deliver high operational performance.