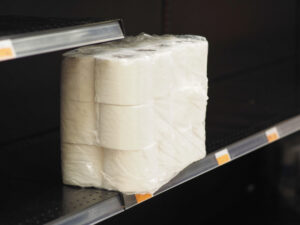 Packaging Changes to Meet Customer Demand
A Fortune 100 CPG company needed to provide larger bundled product to meet demand from customers searching for volume discounts offered at club warehouses. The manufacturer's palletizer area was designed to handle cases— not consumer-ready product bundles. Without severely disrupting the plant's current production, the company needed to reconfigure the palletizer areas and redesign the conveyor lanes to move the newly configured product effectively and efficiently from production to shipping.
Increased Flexibility and Efficiency
Once the line was redesigned, the manufacturer had more control over how bundled products moved through the line, onto forklifts, and out of the plant. Now, product can be bundled onto pallets in stacks of any number, shrink wrapped, and shipped.
As a result, the plant has the flexibility to expand capacity to meet the new demand from consumers without disrupting existing lines or investing more capital. The plant can meet demand as the market changes and increase volume based upon projected sales. The plant knows what it can deliver today and the peak capacity it is able to deliver – which allows sales and marketing to communicate clearly and accurately with both retailers and other customers.
Unintentional Preparation for the Future
Expanding packaging capacity for the manufacturer was complete before the COVID-19 pandemic. Due to flexibility and throughput, the manufacturer was better positioned to take on consumer demand from panic buying during the pandemic. The plant is more productive with the downstream material handling and palletizing systems able to "take away" all new product sizes with the increased line speed. In addition, this manufacturer can provide even more varieties of product to its key retail customers.
Expanding Packaging Capacity Case Study
Want to learn more about the design plan and installation of the new line?