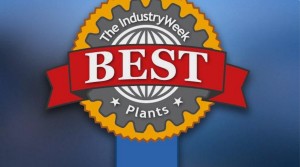 IndustryWeek 2015 and MESA International co-Conference wrapped up last week, so now we are going to make sense of the immense amount of information that came from some amazing speakers. There were two speaking tracks that we at Polytron were most interested in: Manufacturing Meets IT and Manufacturing Technology Strategies.  The buzz was definitely around accessing and managing your manufacturing data to make real-time decisions on the plant floor.
Smart Manufacturing at General Mills
Manufacturing Meets IT was kicked off with Smart Manufacturing at General Mills by Jim Wetzel. General Mills has worked internally and externally to be "smarter" as a manufacturer and support the company's most strategic initiatives, delivering quantifiable business results as a prerequisite.
Jim spent 4 years implementing demand driven manufacturing in one factory at General Mills because a smart manufacturing platform needs to be accessible, affordable, configurable, secure and multi-vendor. He goes into more detail in an article in Control Design.
Leveraging Cloud Technology to Ensure Product Quality Consistency
During the session, Jonathan Turner provided a breakdown of how implementing a standard quality platform across 10 manufacturing plants within the Fresh Dairy Division of Saputo Dairy Foods created one consistent quality picture. Within a short period of time, the Fresh Dairy Division of Saputo was able to create a common product language across their facilities, define standard product specifications and use the incoming data to increase manufacturing productivity. The singular data repository supports Saputo's goal to establish and maintain standardized manufacturing quality across multiple facilities to create one consistent quality picture that will only increase in clarity moving forward.
Go Live is Only the Beginning
Reynolds American Inc. (RAI), embarked on a transformational journey to fundamentally change the mission and role of manufacturing, leveraging technology and Continuous Improvement as key components of the strategy. But, their work didn't end after system selection and start-up. While their results to date have been impressive, the business and technology challenges going forward are equally, if not more, daunting. The good news is that some technologies improve processes and reduce some of the more daunting tasks. The emergence of commercial-off-the-shelf (COTS) applications for manufacturers has blurred the lines between traditional IT and Manufacturing IT and cultural changes in manufacturing are helping to drive progress.
Finding Real Value Where Manufacturing Meets IT
It's easy to talk about aligning people, processes and technology to drive business value. Many people talk that talk, but it's easier said than done for manufacturers. MESA International's Mike Yost, discussed the specific steps MESA is taking to help manufacturers understand the role – and, most importantly, the business value – of leveraging IT-based solutions in the manufacturing domain.
He answered key questions that are being asked by plant managers, such as:
Is this safe and secure enough?
How do I connect to my enterprise systems?
Is this what we've been waiting for to unleash innovation in our plants and across our businesses?
How can we start today?
Enterprise Manufacturing Intelligence: Real Time Analytics Impacts the Bottom Line
How can the chemicals industry go about implementing EMI to transform businesses? Lloyd Colegrove, Data Services Director at The Dow Chemical Company, shared insights on the power of EMI and the steps necessary for manufacturers to move from an "inspect and reject" approach to a proactive operational dynamic centered on "predict and prevent."
Mr. Colegrove opened the Dow EMI playbook to present a real-world approach to EMI that manufacturers can apply to the process data collected in historians, LIMS, MES or other process databases. Whether managing a multi-national chemical firm or a one-plant operation, the supply chain requires every bit of real-time decision support management can muster.
Driving Quality Improvement with an Operations-Focused Approach
As global competition and regulatory compliance increases, the need to produce products of the highest quality at minimal cost has never been greater. Beyond these pressures, reducing the cost of poor quality represents significant contribution to a manufacturer's bottom line. Dan Burkett of John Deere and Greg Brewer of Parsec Automation answered the following questions facing manufacturers and the necessary technological solutions:
What are the causes of poor quality?
Are they design related?
Could they be caused by components, ingredients, or services?
Could equipment play a role in identified quality problems?
The Manufacturing Technology Strategies speakers were also a hit and featured a session by co-presented Polytron's own Robert Jones, and customer Dane Mooers.
Is Your Quality Control System Putting the Brakes on Production? Upgrading Your Quality Control System to Drive Operational Efficiency – Polytron's own Robert Jones, and Dane Mooers, Global Tier 1 Automotive Manufacturer Presenting
Legacy quality control systems built on proprietary software and outdated databases can put the brakes on manufacturing production and the ability to report real-time QC data. That was the challenge faced by Dane Mooers, controls engineer at a Global Tier 1 Automotive Manufacturer. The quality control system became unmanageable and unable to automatically track metrics throughout the stages of production. While quality remained high, the state of the system made it necessary to manually record quality metrics and compile at the end of the process. Further, the quality system's proprietary code prohibited the ability to generate reports as needed without costly programming assistance. It was impacting overall operational efficiency. Mooers discussed how the flexible, real-time reporting of the new quality control system benefits internal decision-making and external client satisfaction.
Speakers are Robert Jones of Polytron, left, and Dane Mooers of an automotive company  #IWBestPlants pic.twitter.com/u99bLIrAnP — Matt LaWell (@MLaWell_IW) May 5, 2015
A Case Study: Demand-Driven and Ready for Take-off!
With a strong foothold in military aircraft and launch programs, Orbital ATK was looking to equip a new facility with demand-driven, factory of the future technology to support its growing commercial aircraft business. During the session, Brian Andrus of Orbital ATK and John Maher of Synchrono, Inc. outlined how ASD transformed ATK's operations by implementing a manufacturing technology platform integrating the company's workforce, methods, materials, machines and data in real-time – providing 360 degrees of manufacturing intelligence through a visual factory information system.
This was enabled by implementing and connecting the following technologies:
Demand-driven scheduling engine
Alert management and escalation utility
Manufacturing intelligence system
Visual factory information system
"The Synchrono Platform allowed us to quickly – and cost-effectively – ramp up our operations to support our growing commercial aircraft and military aerostructures businesses while providing added benefits including information to focus our continuous improvement efforts," said Andrus.
Mazak: Improving Utilization through Machine Monitoring
Mazak's U.S. headquarters in Florence, Ky., is building a plantwide, connected system that links together every machine tool, grinder, laser, robot and system in the facility. The MT Connect protocol, the system has allowed Mazak to improve its overall equipment effectiveness by highlighting layout issues, staffing problems, part irregularities, training issues and programming errors.
"We thought we knew what our utilization was, but now we know for sure. And we have a clear picture of how to make it even better, too," Ben Shawe said while detailing Mazak's experience implementing MT Connect and some of the effects it has had on overall plant performance.  He's also uploaded the case study to MMS Online.
Speakers are Robert Jones of Polytron, left, and Dane Mooers of an automotive company currently merging #IWBestPlants pic.twitter.com/u99bLIrAnP

— Matt LaWell (@MLaWell_IW) May 5, 2015
How Eaton Uses 3-D Printing to Drive Improvement
3D printing technology has been a valuable tool in product development for many years and is now crossing over into manufacturing. Eaton's presenters demonstrated how they have utilized this tool to improve manufacturing processes and operational performance. Examples include poka yoke devices to improve quality and safety tools to protect employees. Other simple yet valuable uses of the technology will be highlighted with specific samples shown for a hands-on look.
Everybody always wants to play with the 3-D-printed products. @eatoncorp #IWBestPlants #ManufaturingToys pic.twitter.com/FNeW4abkFK — Matt LaWell (@MLaWell_IW) May 5, 2015
That wraps up all we saw for this year's Best Plants. See you next year.