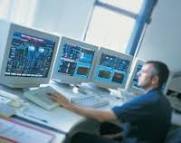 Even with a highly complex installation, our manufacturers get to market in half the time they originally planned. Our emulation solution doesn't just speed up projects, it also reduces effort and cost by half. Best-in-Class manufacturers use emulation to make better project decisions because it:
Lowers overall investment risks

Reduces on-site testing time and costs for shorter startup time

Removes logic controls testing from the project's

critical

path

Allows controls testing earlier in the project cycle

Tests multiple scenarios without wasting materials

Increases control

system

quality

Improves working conditions for controls engineer by safer testing

Improves operator training and minimizes disruption to existing production

Makes overall project duration simpler to forecast and budget

Allows 95% debugging and verification before installation
"I'd never do another project without it."
Challenge: A global consumer products business wanted to put another high-speed palletizer into the system. The seemingly simple task was complicated by a four-mile-long maze of conveyors that needed to be linked to 11 new tie-in points with decades-old systems in place, and the project had to be completed yesterday.
Objective: Polytron engineers responded by using PolySimSM to design, program and debug the new controls.
Results: On day one the controls programs were 95% debugged. 10 weeks of on-site time was reduced and within three days of startup the new line was running at 80% capacity. The customer vowed to "never do another project without it."
To see other cases, checkout our whitepaper: Emulation Lower Your Project Risk with a Digital Twin
Better Results in Less Time
Emulation lets engineers run different scenarios without impacting real production. Running a computer model of the system is significantly more powerful than running the system itself in the field because emulation addresses more variables and yields more useful data in a shorter period of time. Imagine wanting to test running a new bottle size, or package format, and finding out how the line will work without losing production time on your running line. Or, imagine that you can test a 10-year forecasted production on your finished goods handling system today. Emulation is a simple, cost-saving, three-step process:
Test everything in the emulation model

prior

to startup.

Make any necessary adjustments without impacting production.

Conduct a final Factory Acceptance Test (FAT) using the emulation model.
If you can use emulation to complete 95% of your debugging and verification off site, then you can get to market twice as fast and your line will run at full capacity before your original deadline. Get your new line running or old line upgraded with emulation by calling us today.