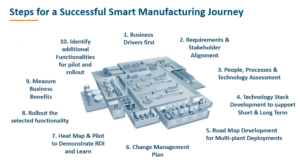 Manufacturers look to Smart Manufacturing to solve business problems and show an ROI to fuel future phases. To help ensure early success for smart manufacturing initiatives, you must find the highest value opportunity in the first phase of the implementation. It is also important to answer the question, "What technology will help solve my problem for the lowest cost and deliver the highest benefit?"
Polytron helps manufacturers identify their Smart Manufacturing opportunities, followed by developing and implementing a customer-specific strategy that delivers measurable ROI along the way. These solutions allow you to start small, prove the value, then rapidly expand for business success.
Richard Phillips, PE, PMP, Polytron's Smart Manufacturing Expert, leads a series of short discussions on how manufacturers are seeing business benefits from deploying Industry 4.0 Solutions and how to help you where you are in your Smart Manufacturing journey.
What are your next steps to smarter manufacturing?