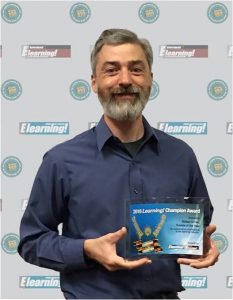 The 2016 Learning! Champion Award honors individuals for exceptional contributions to the learning industry. Elearning! Magazine names 47 professionals across eight categories: Lifetime Achievement, Thought Leader, Trail Blazer, High Performer, Mentor, Creative Consultant, Innovator and Rookie of the Year. Each winner was nominated by their peers and selected from hundreds of submissions.
Robert Kriner, Senior Technical Trainer, Polytron, Awarded eLearning Rookie of the Year
During his first nine months with Polytron, Robert Kriner worked directly with an equipment vendor to identify changeover issues when equipment was shipped to new clients. Even though he'd never worked with e-learning tools, he was able to create a very successful solution.
Smaller equipment vendors in the food and beverage packaging industry have struggled with providing clients with up-to-date information for equipment operation and in 2015, Kriner worked with MeadWestvaco (now WestRock) to identify information that its clients needed to know. He used the older manuals as a baseline and developed a set of job aids that matched with a Computer Based Training (CBT) solution. The CBT could be loaded on the equipment for easy reference on the Human Machine Interface (HMI) at the line. These CBTs included short step-by-step procedures and explanations, combined with video of the procedures. The hard copy job aids were also made available at the line. Favorable customer feedback was received from the first installed location that the information was accurate and easy to reference. The combined CBT with handouts was valuable to the end user and contributed to decreased operational changeover time.
About Robert Kriner: Robert Kriner, ICP Master Trainer and MENTOR Master Trainer is a Senior Technical Trainer and Certified Instructor with extensive experience producing training programs and technical reference documents for clients in industries including food and beverage packaging, satellite and cable communications technology, deep-space antenna systems, and scientific research. Robert has organized and led employee safety programs at a major packaging company prior to joining Polytron. He is focused on effectively communicating complex technical information to a wide range of audiences through print, instructor-led, and computer-based training. Robert holds a B.S. in Nuclear Engineering from the Georgia Institute of Technology and is in the process of completing the requirements to become an authorized OSHA Outreach Trainer.