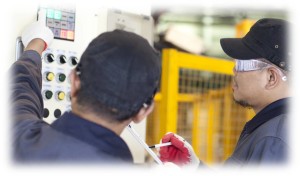 In March 2014, Polytron, Inc. became Rockwell Automation's first North American Machinery Safety Solution Partner.  This Machinery Safety designation is reserved for an elite group of systems integrators that pass a thorough assessment of their safety application expertise, experience and capabilities, and shows a commitment to maintaining excellence in machinery safety applications over the long term.
Since earning the Machinery Safety elite status in North America, Polytron has consistently invested in the TÜV certification of select engineers to meet the growing machinery safety needs of its clients and ensure the highest level of safety solutions. TÜV machinery safety certifications are provided by various technology providers across the industry and Polytron has chosen to select technology vendor certifications to deliver a broader depth of expertise.
Polytron currently has five TÜV certified machinery safety professionals and the team continues to grow.  The most recent certification was a TÜV SUD Siemens Functional Safety Professional certified by Siemens in May 2017. The team currently holds the following certifications.
One TÜV Rheinland Functional Safety Engineer (FSE) certified by Rockwell Automation
One TÜV SUD Siemens Functional Safety Professional (SFSP) certified by Siemens
Three TÜV NORD Certified Safety Machinery Experts (CSME) certified by Pilz
The TÜV Rheinland Functional Safety Program is the only worldwide extended vocational training program in the area of Functional Safety where knowledge and competencies are approved of by a third neutral party and where certificates are issued. Today, there are more than 6,500 engineers worldwide who have participated in the various training topics and have become a  "Functional Safety Engineer (TÜV Rheinland)". Polytron's Functional Safety Engineer is one of only a few hundred engineers in the United States who have achieved this certification.  TÜV Rheinland Functional Safety Program (Machinery) deepens knowledge in the following topics:
European Guidelines, Standards
Risk Analysis
ISO 13849-1: 1999 (EN 954-1) / EN ISO 13849-1: 2006 / EN 62601
Safety Devices
Safety functions of Machines
Circuits, Schematics, Examples
New Standards Regarding Safety of Machinery
Validation
The CMSE® – Certified Machinery Safety Expert (TÜV NORD)  is a globally recognized qualification enabling a 360 degree approach to machinery safety.  TUV NORD, with its subsidiary TÜV NORD CERT, is an international certification body and is present in more than 70 countries worldwide.  The CMSE® –  Certified Machinery Safety Expert certification is validation of competency in machinery safety. Areas of certified competence include:
Introduction to Safety
Machinery Safety Legislation
Risk Assessment
Mechnical Guarding
Electrical Safety
Functional Safety of Control Systems
Functional Safety of Pressurized Fluid Systems
The Siemens Functional Safety Professional (SFSP) program is organized and run by Siemens in close cooperation with TÜV.  The safety experts earn accredited qualifications for Siemens Safety Lifecycle Solutions with specific focus on:
IEC 61511 – Practical Use
Process Safety
TUV Functional Safety for process industry (Exam/Certification)
Click for more information about Polytron's Complete Machinery Safety Solutions.