Polytron Congratulates Gem Skinner, Recipient of 2016 STEP Ahead Award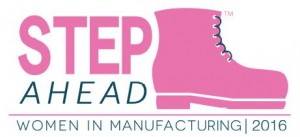 March 1, 2016 – This year The Manufacturing Institute will award 130 women Honorees and Emerging Leaders with the Women in Manufacturing STEP Ahead Award (Science, Technology, Engineering and Production). The STEP Ahead Awards honor women who have demonstrated excellence and leadership in their careers and represent all levels of the manufacturing industry, from the factory-floor to the C suite.
Polytron, Inc. was proud to nominate Gem Skinner, who was selected for the STEP Ahead Award honoring her achievements and ongoing excellence in manufacturing.
On April 21, The Manufacturing Institute will recognize 130 recipients of the STEP Ahead Awards at a gala in Washington, D.C.  The STEP Awards program will highlight each Honoree's story, including their leadership and accomplishments in manufacturing.