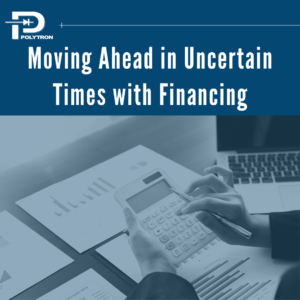 Gaining more capacity with existing assets, improving operational efficiency for higher output, adding new lines and systems to increase throughput, or introducing new products to increase market share is critical now more than ever. Unfortunately, the plan to execute these projects is often met with budgeting restrictions. To remedy this issue, Polytron is offering financing solutions to help you move ahead with projects – even during uncertain times.
Polytron will work with you and your team to create a solution that will meet your technical needs and address business/financial requirements, so you can execute the essential project required for success and growth.
If you are interested in conserving cash, limiting upfront payments, and/or having simple, predictable, and convenient monthly payments, view Polytron's Financing Solution page or fill out the contact form below.