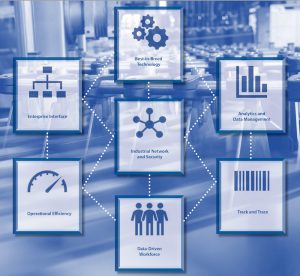 Smart Manufacturing (Industry 4.0/Manufacturing 4.0) is the use of real-time data and technology when, where and in the forms that are needed by people and machines. Smart Manufacturing uses the Industrial Internet of Things (IIoT) and the Converged Plantwide Ethernet -CPwE) – the underlying architecture for control and information disciplines, devices and equipment – to deliver "fully-integrated, collaborative manufacturing systems that respond in real time to meet changing demands and conditions in the factory, in the supply network, and in customer needs." It is an environment Connecting Process, People, and Performance.
Are you ready for Smart Manufacturing?
Does end-of-life hardware and software run your plant floor decisions?
Are you experiencing unscheduled downtime and productivity losses?
Is your current network able to handle today's new smart technology?
Do you have a plan for effectively using a higher volume of production data?
How do you plan to increase production under the state of your current operation?
What is the "view" of your plant for future readiness?
Starting the Journey requires that manufacturers assess every aspect of the plant floor. This assessment includes the Industrial Network, equipment, processes and people. These key target areas at the start of the process will generate significant business benefit:
Assets: Reduction in Equipment maintenance / Increasing lifespan / Improving OEE
Sustainability:  Improve quality / Improve capacity management / Reduce energy consumption
Employee Productivity:  Training with collaborative solutions / Automate workforce management / Increase worker mobility
What issues are challenging your operational efficiency today?
Lack of Real Time Visibility into your whole plant floor – unable to view equipment/process data without running a report post production.
Manual Processes requiring high manpower and production interruption.
Manual Integration of Data in production leaving room for human error and inconsistent product quality.
Lack of Feedback from production line due to aging technology and Industrial Network.
Too much data to process causing data overload and inability to leverage information for production improvement.
Reactive maintenance based on poor equipment performance or breakdown due to lack of equipment data.
Obsolete technology/software causing unscheduled downtime.
Lack of Best Practices impeding Workforce efficiency and consistent product quality.
Lack of formal training program to close Workforce skills gap.
Understanding the critical breakdowns in the whole operational process is a way to prioritize where to start. The inter-dependencies of the plant's total operation allows you to Focus on High ROI and Start Small for Big Wins.
We have provided some guiding questions to use as you and your team conduct a review of the plant floor. Click to download Polytron's Smart Manufacturing Maturity Checklist.