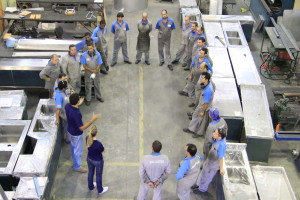 Leaders are baked not born. More specifically, you are set-up with the precise ingredients, mixed with the proper tools and baked in the right oven, to become an effective leader.
Precise Ingredients
The precise ingredients include a basic skill set, natural instinct, and the knowledge gained from education and literature to fill the vital gaps in understanding how to lead effectively.
That basic skill consists of the following attributes:
Approachable: Viewed as an advisor, you are welcoming to others for advice about goals, career, directions and even personal life challenges.
Asks the right questions: Leaders are tuned into the world outside of themselves. They ask the right questions and allow you to talk about yourself or your situation at hand to make sound suggestions.
Good listener: A great leader is one who listens intentionally. This means that they are not always speaking, always delegating, or always communicating one way. Communication is a two-way street. Leaders should listen more than they speak. Great leaders listen to retrieve the right information in order to lead better informed.
Resourceful: Leaders don't always have all of the answers, but a great leader knows where and how to get the information needed.
A certain amount of natural instinct is a necessary component of a great leader. You can have all of the knowledge and the best intentions, but cause calamity through poor execution. Leaders know how to process information, speak tactfully and make reasonable decisions. And, great leaders know when to own a wrong decision and make the necessary adjustments to correct it.
Leadership skills are used in all levels of an organization. Applying the basic skill set will set you apart from others when executing a project, whether large or small. Effectively leading a team or individual coworkers raises the productivity of everyone in the group.
Developing Good Leadership Skills
Possessing a basic skill set and having natural instinct are invaluable attributes of leaders. Leaders, who excel, seek out courses and read literature to strengthen their skill set and fill in vital knowledge gaps.
Reading literature such as; blogs, whitepapers, and books support, build, and enhance basic skill sets and natural instinct. To develop and grow your leadership skills, there are many courses you can take. For example, Polytron offers Leadership Skill courses such as; Effective Meetings gives you meeting facilitation and planning skills to manage internal and client meetings. Communication for Team Success provides tools for effective communication based on the personality and behavior of the speaker and the listener. High Performance Teams is designed to empower skilled personnel to lead with a strong sense of accountability to manage conflict, make decisions, and solve problems for high performance goals.
Baking a Great Leader
One of the most powerful tools needed to prepare a great leader is a coach or mentor who provides guidance, insight and support. The right individual stirs up your intuitive nature with questions, whips up your inspiration and challenges you to do your best. The coach or mentor takes all of your best ingredients and mixes them at just the right speed and time to empower you to perform and excel at leadership.
Your facility probably has some of the best mixers that empower the rest of your organization. There may be personnel in your facility who are in leading roles but unable to connect with, mentor, coach or support team members effectively so that they feel empowered to perform.
How leaders respond to tough situations and scenarios determines how others view their performance as a leader. When in the hot seat, do you bake well under pressure or fall flat and burn? How you perform under the circumstance ultimately determines how great of a leader you are. How do you make decisions? What is your philosophy or methodology? What is your leadership style?
Leaders require a spoon of basic skill sets, a dash of natural instinct, and a cup of knowledge to be great. Being born and positioned in a leadership role is just the icing on the cake.
For more information on mentoring tools to provide first line supervisors, subject matter experts, and leaders with the skills to empower performance, coach constructively, and transfer knowledge effectively read about our M.E.N.T.O.R. Program.