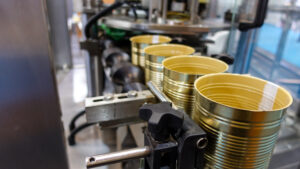 On April 16, 2021, Rockwell Automation featured, "How Food Manufacturer Integrated 5 Lines During Building Construction, Aggressive Timeline," in the Rockwell Journal, Food and Beverage edition.
This article explained the challenge of consolidating and upgrading six lines from three different facilities into a single facility for a food manufacturer that was acquired by an international brand. The newly constructed facility was to be converted into a plant capable of reliable production.
To satisfy the parent company investors and maintain delivery of product to customers, the project needed to be as time efficient as possible. On top of the many challenges of a new building and new automated canning lines, there was concern that the integrated automation system should be professionally designed, useable, and reliable.
Polytron was engaged to write software that supported the packaging automation of both canning and palletizing systems for Line 1. In support of this project, Polytron designed automation to provide integrated control of the line, so the machinery would work in unison for sustainable performance.
The automated system was designed for equipment reliability, efficiency, and consistency. The design was standard across all packaging lines in the facility, so operators recognized the interface regardless of the line or their position. Polytron followed best practices for expedited and precise design, implementation, and startup. To date, the system and new lines are highly productive and have low downtime achieving the parent company's goals.
To read more, view the Rockwell Automation Journal article CLICK HERE.