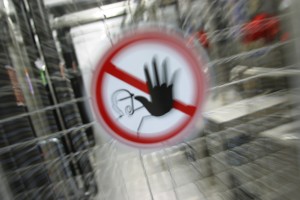 Fines levied against manufacturers are now reaching the six-figure fine limits. The number of companies facing total OSHA fines above $100,000 has tripled since 2010. Even citations classified as "willful" now carry a $70,000 maximum.  In August 2013, an Ohio steel manufacturing plant was fined $1.1 million dollars for failing to protect  workers from falls and other willful safety violations.
Proactive action through awareness, employee training, and workplace safety, is a must to protect your business.  What is new on the OSHA horizon for 2014?
On January 6, Safety News published its Top 10 OSHA Trends to watch in 2014.  Here are a few we would like to share.
Criminal prosecutions for OSHA violations. This enforcement tactic has gone from a trickle in previous years to a steadier drip. In other words, it's still pretty uncommon, but there are more cases than there used to be. And there's more potential for additional cases in the upcoming years because OSHA is referring all fatality cases and investigations in which there are three or more serious injuries to district attorney offices for possible criminal prosecution.
Updating injury and illness reporting requirements. This revision would update the list of industries that are exempt from reporting injuries and illnesses to OSHA. It would also revise certain reporting requirements. The existing regulations require employers to report to OSHA within eight hours any work-related incident resulting in the death of an employee or the inpatient hospitalization of three or more employees. The revision would require employers to report to OSHA within eight hours all work-related fatalities and all work-related inpatient hospitalizations; and within 24 hours, all work-related amputations.
OSHA's proposed Injury and Illness Prevention Program requirement. OSHA chief David Michaels has referred to this initiative as his No. 1 priority. In its most recent regulatory agenda, OSHA estimates it will release a notice of proposed rulemaking on I2P2 in September 2014. While the Obama administration has three years left, the clock is ticking on this one. It's likely the agency doesn't meet the September date for releasing the NPRM, but if it's not released by the end of 2014, this administration will only have two years to enact I2P2.
Process safety management changes. As called for by President Obama's executive order on improving chemical safety, OSHA intends to issue a request for information (RFI) regarding process safety management and prevention of major chemical incidents. The RFI will identify issues related to updating OSHA's Process Safety Management standard.
Willful vs. serious violations. To prove a violation is willful in nature, OSHA must show it was "committed with intentional, knowing or voluntary disregard." A willful violations carries a potential maximum penalty of $70,000, compared with one categorized as serious that tops out at $7,000. OSHA has a goal to increase the average cost of penalties since Congress has not passed increases in penalty maximums. But in 2013, OSHA suffered a setback in its ability to use the willful categorization. An administrative law judge at the Occupational Safety and Health Review Commission downgraded fines issued by OSHA to BP Products North American and BP-Husky Refining from willful to serious. The judge in this case reduced the fines from $70,000 each to $7,000 each. Given this case and others in which a violation's willful status has been batted down on appeal, it will be interesting to see how OSHA categorizes fines going forward.
Fines for noncompliance with Globally Harmonized System of Classification and Labeling of Chemicals. Companies had to train employees about the new safety data sheets and symbols under the GHS revision of OSHA's hazcom standard by Dec. 1, 2013. That means companies can now be fined for not complying.
What are you doing to protect your employees, your revenue and your company brand?