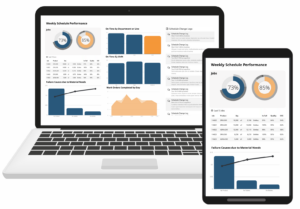 The start of the roaring 20s didn't quite go as planned for most of us. Instead of celebrating economic growth, many manufacturers have been struggling with the ongoing logistical effects of the COVID-19 pandemic – supply chain issues, transportation problems, and even worker shortages!
This year will be filled with its new set of obstacles, but like each year, it will result in new innovative solutions and new industry trends. Our Polytron experts are predicting what we will see in manufacturing this year that will help accelerate your business in 2022.
Smart Supply Chain
As manufacturers continue to transform their factories into "Smart Factories," integrating their upstream and downstream supply chain work streams creates many additional opportunities to extend the value of these smart solutions.
On the upstream side, gaining real-time visibility into incoming materials allows for enhanced traceability, insights into supply disruptions, better planning and scheduling, and overall better analytics and forecasting.
The same ideas apply on the downstream side- in addition to delivering greater value to your customers, such as providing real-time delivery information, product expiration dates, traceability information, and much more. In many cases, this information can provide a significant competitive advantage.
With the continued disruptions to supply chains continuing in 2022, having a Smart Supply Chain will become a differentiator in 2022, and the difference between those that can meet their customer demands and those that fall short!
Predictive Maintenance
Predictive Maintenance will continue to replace Preventive Maintenance and the "run till it breaks" approach in 2022, since cost-effective, reliable solutions are now available in the market. These solutions leverage proven Machine Learning (ML) algorithms and intelligent IoT and traditional sensors to reliably determine potential issues with the equipment before they impact production. The more assets that are monitored using Predictive Maintenance, the greater the accuracy in the predictions.
The cost savings from these solutions is significant because of reduced maintenance staffing levels, increased production time, fewer fire-fighting disruptions, and better planning and optimization.
Digital Visual Workflow
Visual Workflow as part of a modern Manufacturing Operations Management (MOM) solution is a game-changer as it will connect the entire factory by digitalizing every workflow within the plant, whether its operational, safety, quality, maintenance, or any other. Visual Workflows provide real-time visualization of each workflow including the history of each step and insights into next steps.
Best practices are more easily shared as you no longer rely on old paper copies that have outdated versions of the process. Historical data is easily available to understand opportunities for optimization across shifts, products, etc.
Algorithmic Production Scheduling
Last but certainly not least, Artificial Intelligence (AI) and Machine Learning (ML) are already beginning to impact many areas within manufacturing as basic AI and ML functionality begins to be deployed.
Let's explore Production Scheduling: For example, most manufacturers struggle with optimizing their production schedule to maximize throughput. Accounting for the multitude of variables that change throughout the day is very difficult.
These variables include delivery commitments, availability of inventory/materials/assets/operators, changeover requirements between products, historical/real-time data, and more. The data resides in different discrete systems such as ERP, WMS, etc. Scheduling has become a spreadsheet balancing art based on tribal knowledge and gut feel which usually delivers mixed results at best.
What if you could capture your best scheduler's thought process along with your company's collective tribal knowledge, and then take it to another level by using advanced algorithms to improve your scheduling optimization even further? That's what algorithmic production scheduling does!
Algorithmic production schedule looks at all different variables impacting production to determine the optimal production schedule in real-time, multiple times per day as conditions change. Any solution that allows you to run your existing equipment more efficiently is likely to have a very attractive Return on investment (ROI), in many cases as low as a few months. You certainly will be seeing increased adoption of Algorithmic Production Scheduling in 2022!
Let's Chat!
Learn more from several of our experts on current manufacturing trends and how this past year has accelerated technology. Being hands-on across the manufacturing plant floor for almost 40 years, while supporting the goals and strategic direction of our clients, gives Polytron first-hand experience in the current and future trends happening throughout the food and beverage, CPG, chemical, and life sciences industries. 
Do any of these predictions inspire you? Contact Polytron here, and we will have our industry expert reach out to you or view our webinar.