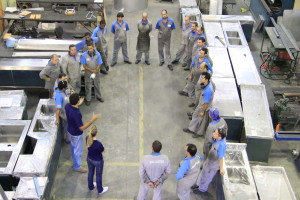 Once you have found a systems integrator that suits your needs, its time to execute. By conveying your expectations and trusting the expertise of your integrator, you increase the chances that the project will be executed according to plan. Here are a few more key items that are necessary for any successful integration project.
1.) The Relationship with The Team
Part of the success of a project will hinge upon the relationship you develop with an integrator. You have to be able to trust your integrator so that you can have honest and open communication. Part of effectively communicating can result in a divergent opinion. If an integrator says that they, "wouldn't do a project that way," and provides you with options, then it is a good sign. This allows you to better evaluate the best options for the success of the project.
The integrator should act as an extension of your plant project team to share information, and improvement opportunities for your project.
2.) The Expertise
Checking an integrator's credentials and certifications is important prior to a project because integration projects can be complex. Many projects deal with power, controls, drives, HMIs, system networks, machine functions and safety systems. The integrator should have extensive experience level with each of these components.
Extensive experience allows the integrator to more effectively identify and resolve issues during a project to mitigate your risks.  Expertise can be the difference between success and failure on your project.
3.) The Deadline
Meeting the deadline is paramount to a successful project. If you've developed an honest, trusting relationship with your integrator experts, they will have the ability to act independently in your best interest. They shouldn't be waiting for you to move forward, asking what to do. Instead, they should know what to do, give you options and make a recommendation.
When you partner with the right Systems Integrator for your projects, you lower your risk, improve your productivity and meet or exceed project expectations.