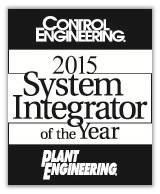 The speed of innovation within the manufacturing sector is increasing. The internet of things (IoT), manufacturing enterprise systems (MES) and flexible lines are new technologies that manufacturers can leverage in order to make better decisions and better serve customers. But, new technologies, like the Internet of Everything, also bring a new set of problems and challenges.
Manufacturing technology is a means to an end, something we have to invest in order to stay competitive and succeed in the marketplace. The challenge manufacturers face is finding the right people to integrate and operate these technologies. We can create products with efficiencies unprecedented in history, but there is no such thing as manufacturing on autopilot. To reach our goals in manufacturing and in business, we need people who are technologically proficient, and more importantly, good with other people.
Aligning Technology and People
Last month, we were named the 2015 System Integrator of the Year by Control Engineering Magazine where our CEO, Charlie Jager, had the opportunity to discuss trends in the industry.
"Alignment" was a keyword of the interview. Charlie's influence is felt throughout Polytron. Over 80% of our posts include the words align or alignment. For example, "When the Project Delivery Team — a cross-functional team of project stakeholders, create the shared vision — promote a "common purpose" through defined project success criteria that align the project team, you are able to realize project success: shorter startup, and a sound ROI for your business."
Decreasing Risk by Providing the Right People
A large part of what makes Polytron important to our clients is our expert engineers. Wikipedia defines engineers' work as forming the "link between scientific discoveries and their subsequent applications to human needs and quality of life." Having the right people is critical for the application of science because all machines do is take orders. Machines are only as good as the people who operate them.
For X dollars, any business can invest in new capital, but X dollars doesn't always result in finding the right people for a job. Manufacturers' need the right people AND the right technology to continue meeting their customers demand. Polytron makes manufacturers' objectives less risky and much easier. We've helped lead the industry by allocating more resources to finding the right people, recruiting them and making sure they are trained to a very high standard. Our engineers decrease manufacturers' risk by ensuring people and technology are aligned to meet their objectives.